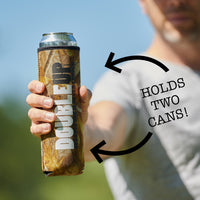 Doubleup Holds Two 12 or 16 oz cans
Our patented can cooler keeps two beverages cold so you always have a backup beverage!  Constructed of thick "Scuba" grade neoprene, for superior insulation.
My new favorite boating koozie

Doug S.
Thanks doubleup! These were a hit at our annual family reunion 

Sharon G.
Why didn't I think of this? It will forever have a spot in my golf bag

Connor A.